Books
Retail Is A University
by Peter James Ryan & Gerard Manion
© Copyright 2007. Peter James Ryan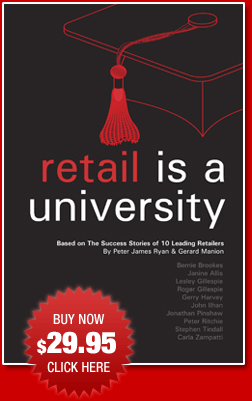 Peter James Ryan and Gerard Manion have combined their vast retail consulting experience with insightful interviews featuring some of Australasia's leading retailers, to provide a unique and articulate view of what makes retail and retailers tick. Retail is a University is must read for:- – people considering a career in retail – retail employees looking for inspiration and a vision of what could be – parents contemplating a future career path for their children – teachers, instructors, mentors and retail HR professionals seeking aids to assist those they are guiding
This book holds a mirror up to: – what makes a great retailer, – why retail is such a satisfying career, – how to get ahead in retail, and – the true riches and rewards of a commercial lifetime spent serving customers.
It explains why some of the best friendships possible to be made in business are those formed between retail colleagues, their customers and their suppliers. Easy to read and compellingly argued, Retail Is A University eloquently puts forward a case for why retail should be a career of first choice. A case that will have many people re-assessing their options.
Click here to buy now : $29.95 »
The Eyes Have it™
Since the advent of the contemporary department store in Paris in 1855, multi-sensory visual merchandising techniques have been used to seduce, confront and motivate shoppers to buy. In this book by Peter James Ryan, the theory of visual merchandising and the order or hierarchy of customer contact is described and explained. A must read for all retail practitioners this book has practical insights into how to dramatically improve productivity through understanding and application of sound visual merchandising technique.
Love Makes The World Go Around™
In most western economies the pool of available shoppers is not increasing at pace. Growing strong customer relationships is critical to maintaining successful retail franchises. Peter James Ryan explores the parallels between developing a successful relationship with one's chosen partner and developing successful relationships between customers and retailers. A unique insight into an inter-change that mystifies many merchants.
Be notified when these books are released